Multiple Datacenters
Stretching a network fabric
Geo – Bangalore
Company – Manufacturer of Commercial Vehicles
Employees – 1,200
Solution – Data Center Networking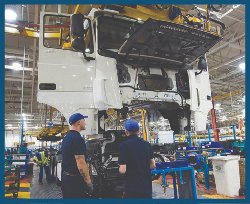 "The Connectivity Solutions team was very supportive, very proactive and was available in a timely fashion for seamless migration. Teething issues were addressed properly and there are no negative thoughts as team was very collaborative and understanding the network."
– Customer Manager — IT Infrastructure
Support ongoing growth in users, applications, and data.
Improve workload portability to eliminate downtime.
Accelerate service provisioning and change management.
Make the transition from traditional to software-defined networking.
Cisco® Application Centric Infrastructure (Cisco ACI™).
Cisco® Nexus 9000 Series Switches.
Simplified network operations by connecting two data centers.
Improved network segmentation, security, and control with policy-based automation.
Established the foundation for a global, zero-downtime network fabric.