Full Network Visibility and Control with Robust Security
Intelligent security for necessary communication
Geo – Bangalore, India
Company – Product Manufacturer Automotive
Employees – 4,000
Solution – Cisco Identify Service Engine (ISE) (NAC Solution)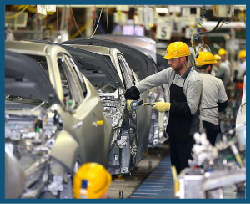 "Before installing Cisco ISE, we were blind on the network. We had no idea who was connected or what kind of devices they were connecting with. Now, we have complete visibility and control, and we are also able to monitor all our employees from a dashboard."
Need for increased security : A leader in the automobile industry, they faced high risks with frequent cyber-attacks around the globe.
Lack of visibility and security : Need to ensure the integrity of the network's physical environment across 4000 users, 14 different locations and thousands of network devices. Lack of visibility in terms of intruders on the network was a major threat.
Need for single dashboard endpoint management : Securely identifying and monitor end users and their activity was a major concern so as to contain spread of viruses and malware from unknown untrusted devices.
Connectivity Solutions recommended ISE to achieve greater visibility over the network while integrating with existing solutions in straight-forward deployment with minimalistic issues.
This impacted wired and wireless users as well as guests through the usage of dynamic access policies that enforced security while giving full visibility and control over the entire network.
Network Device Administration secured the infrastructure from not only intruders but even employees. Cisco ISE allows the IT team to monitor devices connecting to the network, the nature of the device (domain or not) and provides defined access as per policies.
Simple, secure, and innovative, this technology offered maximum value to the organization.
Secured wired and wireless access for everyone with compliance and posture.
Greater and granular visibility of endpoints, users, and network device administration across the environment.
Secured network, maximized security and containment of network breaches from external users.
Streamlined Network Management.